The next big urban planner of Paris was Jean-Baptiste Colbert who was appointed by the Sun King (1643-1715 reign) who liked big, grand palaces like his home in Versailles. Colbert wanted Paris to be a second Rome. Making Paris as astounding as possible was his goal: he began the building of Invalides, lined the boulevards with grand trees, doubled public water fountains, improved the pavement, sidewalks and the streets- all in all Paris's first major reconstruction. Additionally, homeowners of dilapidated or old houses were asked to leave and compensated.This is when the cobblestone streets were implanted and street cleaning became a new initiative: all because the Sun King wanted Paris to be the most beautiful city in France.
Colbert's most notorious contribution during this time was Invalides which is both a Classical and Baroque style building. If you've ever seen a building with tiny oval windows on the roof and wondered what they were called: its Oeil de Boeuf windows. These windows were typical Baroque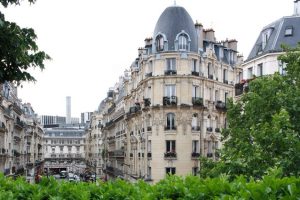 style architecture. These are seen usually on Mansard roofs (made popular during this era by François Mansart, a man who's work could only be afforded by the richest of the rich, none of which is still standing in Paris).  After the grandiose of the Sun King people became a bit exhausted by Baroque architecture. Another feature of this era that still remains, is the red brick facade. This was known as Rustic style architecture and was partially inspired by Versailles. To see an example in Paris, look no further than Place des Vosges. These facades were used for wealthy homes because the materials and ornate detailing was expensive.
However, there was one final chapter to the Baroque era called the Rococo period. This was more of an interior and art focused era where intricate, asymmetrical, and lightly colored palates for the bourgeoisie. The focus was more on manors, salons and palaces. However, residents were able to partake in this era through smaller paintings and home accessories that were light in color, more ornate and less dramatic than Baroque era art. One standing example of Rococo architecture is Hotel Amelot de Gournay which is used as the Maison de l'Amérique Latine. Another example is the Hôtel d'Evreux that has an open courtyard for visitors.