Back to School is fast approaching in Paris and with this comes questions about the French school system, bilingual sections, costs and the general process of enrollment. As a part of your transition into the Parisian life schooling for your children is a huge factor.
Some basic things to know:
French schools are funded by the state so hypothetically, your address or property tax does not determine the quality of your child's education.  

There are subsidized private schools that are still funded and run by the state.
Religion and religious expression is banned from school.
Enrollment:
Begins in January of the previous school year

In order to change your school (district) you will have to provide proof of reasoning to the Mairie. An example of this is separated parents wanting the child to go to school in one arrondissement over the other.
You will need:
Birth certificate

Proof of parents identity
Immunisation card
Residence proof
Insurance
As the Bien Rentree (bien rentré = welcome back period where the city restarts and people return from their vacations) begins, youngsters across the city are starting a new school year. Understanding a new school system, fear of not finding a good fit culturally or linguistically and fear of transition between the US and French school systems are some of the biggest fear factors for potential expats. And rightfully so. France's education system (along with health care, social, political and all the other important things) is vastly different than the American public and private education system. Here are some basics:
Creche
Creche is comparable to an American nursery. The average age of creche 'students' ranges from 3 months to 3 years old. Creche is available for two-parent working homes and at a subsidized cost based on income. If it seems like Creches are too good to be true well, it's because they somewhat are. Getting a spot at these state-funded nurseries can be near impossible. Spaces are limited and French parents like to joke about "enrolling at the moment of conception" but even an early start doesn't guarantee admission. This competition for a spot in a creche leaves many parents looking into nanny-shares and other alternative options.
Maternelle
Maternelle is comparable to American preschool and eligible for all potty-trained children. By 2019 it will be mandatory that children starting from the age of 3 are schooled. The school days can be long but there are plenty of breaks and playtime slots. There is also an option to pick up your child at the half-day mark which many Anglophone parents opt for. In Maternelle, the students are grouped based on age: les petits (2-4) , les moyens (4-5) , les grands (5-6). Generally speaking, at Maternelle there is an emphasis on discovery, handwriting, group activities and preparing for ecole primare. Even if the child has no concept of French, by the end of one school-year they are sure to be fluent.
One huge difference between American and French preschool and nursery? Food! Here's a sample of a menu at a French preschool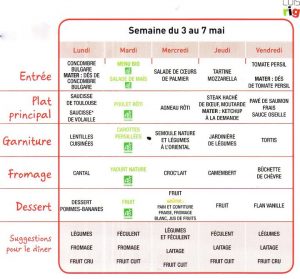 Primaire
The main focus of primary school (for children aged 6-11) is to learn the basics on reading, writing and math. Starting as early as the first year of primary school, students are expected to know how to write and read in French. Primaire is where students learn by repetition rather than analytical thinking: a common complaint of American parents observing the differences. The upside to this style of learning is a focus on literature, philosophy and classics through repetition and emphasis. The author of "Bringing up Bebe", Pamela Druckerman a book comparing French and American parenting styles put it simply: there's less focus on creativity; French kids are taught to be more analytical than creative. This is a common observation about the differences between French and American schools. It should be noted that a substantial amount of the curriculum is dedicated to French and French literature hence, English speaking children will be able to pick up French both socially and academically at school. Especially if they are enrolled at a FLE school where French as a foreign language is a language option. On the contrary, there is a surgence of extra help available during school holidays to students who may be struggling or need additional help (stages gratuits de remise à niveau pendant la période des vacances scolaires). Redoublement or the repeating of a grade has less of a stigma in France than in America. Another helpful thing to know about is UPE2A which is an immersion program for non-English students available in public schools. The most important thing is to do your research on what each school offers and whether or not they can accommodate your child's French learning.
One huge difference between American and French primary school? Discovery classes! Students are taught to discover nature and outdoor spaces and even taken abroad on ski trips. This is a huge advantage for French students as they are purposely exposed to rural areas and taken out of their comfort zone.
BONUS: the activities offered to children are vast and interesting: capoeira class, mediation, circus class? Count me in.
Collège
College is for children aged 11-15. Again, one of the main concerns and complaints about college is the common complaint is the negative and often disheartening approach to any creativity, lack encouragement and over-emphasis on memorization/ final exams. College is split into sections: observation and orientation. The beginning of college (2 years) has a common curriculum whereas the last two years are more focused on the individual student's interest. At the end of college students, their parents and their professors decide between continuing to lycee, vocational school or work/apprenticeship experience. The Brevet exam at the end is the determining entrance into a Lycee.
Lycee
Lycee is to prepare students for their baccalauréat (vocational, professional or general). The second year is to determine the type of baccalaureat test they will take at the end of their studies. The BAC test is split into three types: General BAC (literature, economics and social studies or science focused), Technology BAC, Vocational BAC (which leads directly into employment with university studies). For students with dreams of France's Ivy Leagues (Grande Ecoles), the grades in the first and third year of Lycee are what matter the most. Preparatory courses or Preppas last for 2 entire years of studying before hopefully getting into a top school.
Keep in mind one major difference is grading scales! In America, grades like 100, 105 (with extra-credit) are conceivable. In France, however, a grade like 13/20 or 15/20 is considered ok and passing.
The biggest things to take away from school in France vs America are that:
Your children will learn French quicker if integrated into French schools
Teaching styles and emphasis are completely different in both positive and negative ways
Address doesn't determine quality as starkly as it would in the states
Pre-schoolers eat better than most adults 🙂